Enterprise Budget and Decision Making Tool
Create your own custom crop enterprise budgets.
Start by signing up with your email address and a password.
Each time you return to this Ag Budget Calculator (ABC) to view or update your budget information, you will need to login. Only you can see and work with your budgets.

Foundations for Enterprise Decisions
Welcome to the University of Nebraska – Lincoln's Ag Budget Calculator (ABC) program for agricultural producers.
ABC is an enterprise budget and decision making tool. Users can view UNL's crop budgets, or create a log in by registering and entering their own data to create customized enterprise reports that reflect how their farm resources are being allocated.
Individual farm data entered into the program will be kept private and will not be used or shared by the University of Nebraska.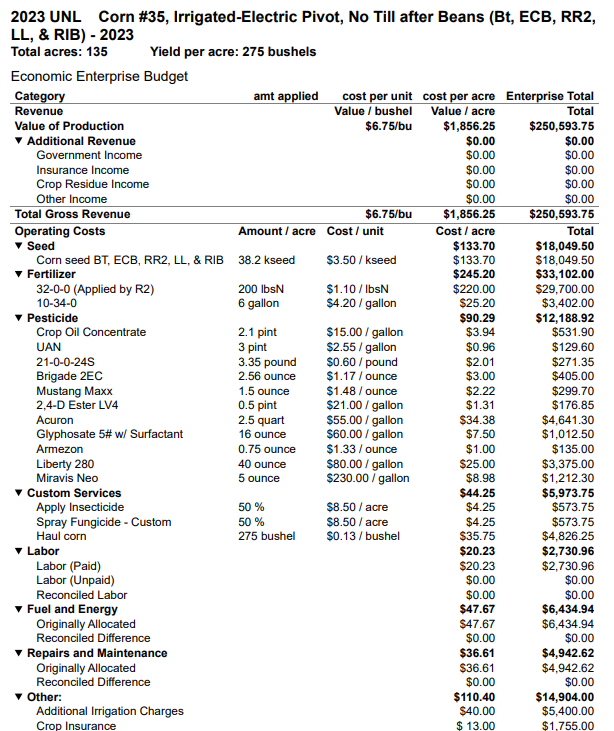 Overview of ABC
The Ag Budget Calculator (ABC) program is designed to assist agricultural producers in determining their cost of production and projected cash and economic returns for their various farm or ranch enterprises.
When using ABC, an enterprise can be defined by the user based on what makes sense and fits their operation.
Crops may be entered individually or entered field by field, and/or by dryland or irrigated enterprise acres. To break down cost of production information even further, individual field operations and data can be entered. This could be one way to analyze cost and returns field by field for a specified crop. Then, all separate enterprise budgets (field by field or dryland and irrigated) completed for a particular crop, such as corn, will be added together so the user will have a projected cost of production and estimated returns for their total corn production for the production year. This would be similar for soybeans, wheat, or any crop enterprise that producers enter information for into the program. The ability to add livestock enterprise data into ABC will be forthcoming.
An overview with tutorial videos on ABC is available at: cap.unl.edu/abc Help messages have been added throughout the program. Our goal in program development was to make ABC user friendly. However, with any new program, the more it is used, the easier it should become. Don't hesitate to reach out for assistance from Glennis McClure, Extension Farm & Ranch Management Analyst, Department of Agriculture Economics, University of Nebraska-Lincoln. gmcclure3@unl.edu or 402.472.0661
This material is based upon work supported by USDA/NIFA under Award Number 2018-70027-28586 and 2021-70027-34694.